https://www.independent.co.uk/arts-entertainment/art/features/saudi...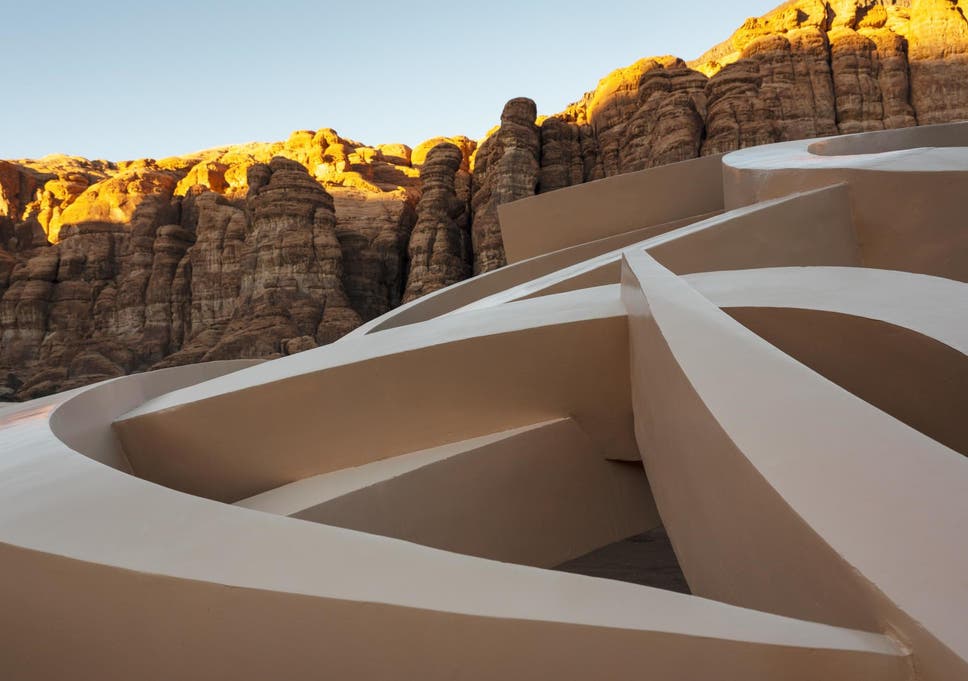 ven unembellished by the four-metre-tall, shimmering, tumescent fuselage lodged in the sand, the deserts of Al Ula would leave a lasting impression.
It's the physical landscape: creamy dunes peppered with tiny purple flowers that bloom between windstorms, and terracotta sandstone karsts soaring hundreds of meters above the sand against perfectly complementary blue skies.
It's also the Unesco World Heritage-listed Nabatean city of Hegra, younger sibling to Jordan's Petra, with its hundreds of stone-carved tombs, and an aesthetic drawn from Hellenistic, Ptolemaic and pre-Islamic Arab influences.
The fuselage, an installation entitled The Future is Now by the American contemporary artist Gisela Colon, is part of Desert X AlUla, an exhibition which traces its origins to southern California's Coachella Valley. Colon's piece appears in a mile-long natural sandstone canyon along with 13 other site-specific installations, including a giant swing set by the Danish collective Superflex (which first appeared in London's Tate Modern in 2017), a river of thousands of silver metallic boxes traditionally used for storing dates by Saudi artist Zahrah AlGhamdi, and a star map and 24th century female cosmonaut statue in royal blue by Lita Albuquerque entitled NAJMA (She Placed One Thousand Suns On The Cosmic Overlays Of Space).
The installations, which opened to the public on 31 January, are part of a coalescence of landscape, architectural heritage and grand-scale art that is just begging to be Instagramed. Together they make for what could be the perfect storm of a tourist attraction. The California edition of Desert X coincides with the millennial-famous Coachella music festival. But you won't see many flower crowns around here: this is Saudi Arabia, a conservative society experiencing violent growing pains as it slowly opens to the world.
Desert X AlUla, which opened 31 January with great fanfare and many VIP helicopter rides, is a collaboration between Desert X and the Royal Commission for Al Ula (RCU). Established in 2017 by Saudi Crown Prince and de facto leader Mohammed Bin Salman, RCU is part of the prince's Vision 2030 scheme, an attempt to diversify the Kingdom's oil-based economy by encouraging, among other industries, tourism and the arts. Vision 2030 is accompanied by recent relaxation of some of Saudi's most infamous cultural restrictions, such as the ban on women driving and gender segregation in restaurants.
The use of art to champion change naturally raises the issue of freedom of expression. Despite the easing of restrictions, "there's a general sense of fear in society of speaking out because it could be criminalised," says Dana Ahmed, Gulf researcher at Amnesty International. "It's difficult for outsiders to know how Saudis feel about things, even the positive reforms, because people are afraid to speak about them."
Can art flourish in a country accused of severely restricting its citizens' freedom of expression? In Al Ula, the answer seems to be yes, but only up to a point. A controlled environment and tentative artists result in work that is often visually spectacular, but feels ultimately insubstantial.
The participating artists, says Desert X artistic director Neville Wakefield, are divided between Saudi, Middle Eastern, and global backgrounds. Several have participated in previous Desert X iterations in the Coachella Valley; Wakefield and his Saudi co-curators Raneem Farsi and Aya Alireza recruited the others, inviting them to tour the site and then submit ideas.
Desert X AlUla's curators say they never felt pressure to avoid any specific subject matter. "The artists that we work with," says Alireza, "are familiar with the environment and the sensitivities. We've never had anyone proposing anything loud or controversial."
However, analysts fear that a healthy culture of expression can't be incubated in the Saudi of today. "Through our documentation, we've found dozens of cases of individuals who have been prosecuted under anti-terrorism or anti-cybercrime legislation, which criminalises contact with foreign entities deemed to be a risk to national security," says Dana Ahmed of Amnesty International. "In this environment of cracking down on writers, activists and their families, we don't expect that there would be a free space for creative thought."
Saudi's rapidly changing cultural landscape leaves some local artists unsure how far they can push the envelope. But they are pushing. "We're testing the waters," says Saudi artist and storyteller Muhannad Shono, whose The Lost Path installation comprises 65,000 black pipes bound together, snaking through the shifting sands. "My generation still suffers from self-censorship, because we grew up aware that many things are not allowed. My first comic book that I published here was censored because it contained a witch, and magic is considered haram [forbidden under Islamic law]… Now we're not quite sure where the limits are."
According to Egyptian-American sculptor Sherin Guirguis, at first "I did think maybe boycotting was the right thing to do". But the absence – or exclusion – in the dominant cultural archive of Arab women's voices sparked a feeling of obligation for her: "There's nothing in the history books that contain my narrative [as an Egyptian-American woman]. As an artist, as a woman artist, as an Arab woman artist, I have to go to contentious spaces… to create an opportunity for our work to be visible."
Guirguis's installation, Kholkhal Aliaa, is a huge model of a traditional Bedouin woman's anklet wedged in a rock canyon above eye height. It's inscribed with a calligraphic representation of a poem by the "almost forgotten" Bedouin poet Aliaa bint Dawi Alayyah AlDalbahi AlOtaibi.
"My work," Guirguis says, is about "creating a platform for visibility for women's work, especially in the Swana region," using a post-colonial acronym for the region typically known as the Middle East.
The potential for art to impact positive change is a motivation consistently cited by Desert X's artists. "We believe that art has the potential to impact change through the participatory process, influencing change through the collective process," says Bjørn-Stjerne Christiansen of Superflex, who says his reservations disappeared once colleagues in the Middle East urged him to participate.
For some in Saudi, though, the change is already palpable. "It feels like everything is coming together," says Muhannad Shono, "to make something happen we've all been dreaming about."
Desert X AlUla runs until 7 March; www.desertx.org/alula